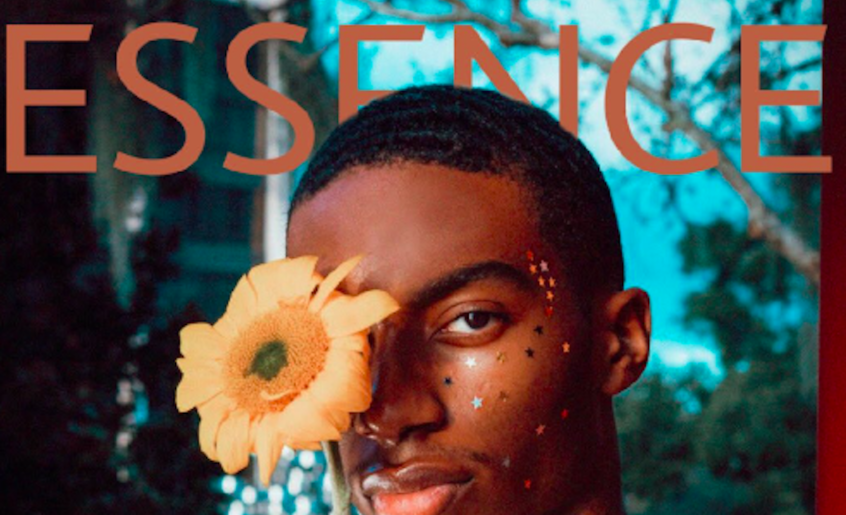 The viral spread of #VogueChallenge, combined with the BLM imperative of supporting black life and wellbeing worldwide, has intensified the social media conversation on the imbalances of power ingrained in the cultural economy of fashion driven by media giants like Vogue.
It is therefore no surprise that the phenomenon triggered by Salma Noor now includes also critical voices and counter-arguments as to what/whom the challenge ultimately benefits (read: the anti-black establishment).
On Instagram, Nigerian entrepreneur and style icon Folasade Adeoso (@lovefola) posted an image of herself, lounging outdoors on a red chair and sporting a green turban and an elegant red jumpsuit, with the Vogue header crossed out in black ink. "#fuckvogue and honestly the entire industry. Anna Wintour is just as guilty as some your other fav publications, fashion designers and modeling agencies." To which Nigerian photographer Yagazie Emezi commented "Majority of big pubs wouldn't want us if it wasn't for the diversity agenda".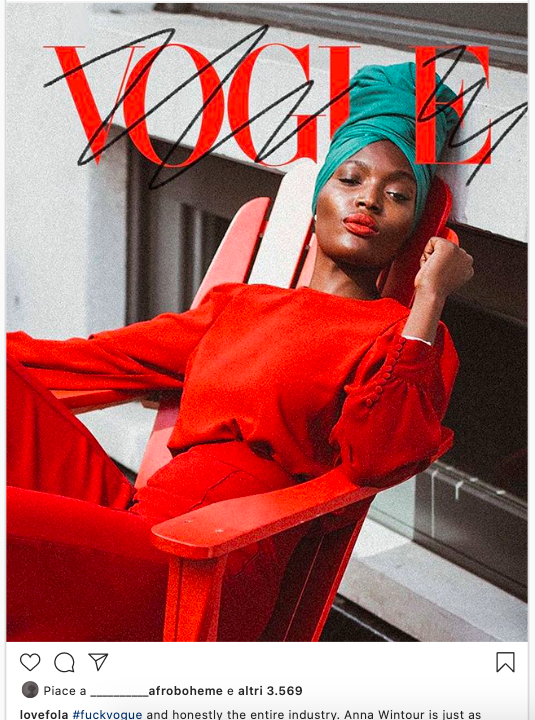 A boycott of the challenge is currently gaining traction. The criticism is leveraged at Vogue for profiting from the creative labor of black creatives, but also at the users who have participated in the challenge for becoming complicit with the magazine's racist politics.
In the U.S. #EssenceChallenge is the top trending "spin-off" of #VogueChallenge, launched by "Girls United by Essence" (@EssenceGU), taken up by users who attack Vogue's biased treatment and appropriation of black culture through the decades. Essence is a black-owner American lifestyle magazine founded in 1970 and targeted at African American readers. It is therefore a publication with a long history of pro-black engagement and representative of a shared desire, felt particularly by the black community in the States, to uplift and enhance the cultural, social and economic power of the structures that are already in place to give representation to minoritised subjects/communities. Other similar iterations, referencing other iconic black platforms, include #EbonyChallenge and #JETChallenge.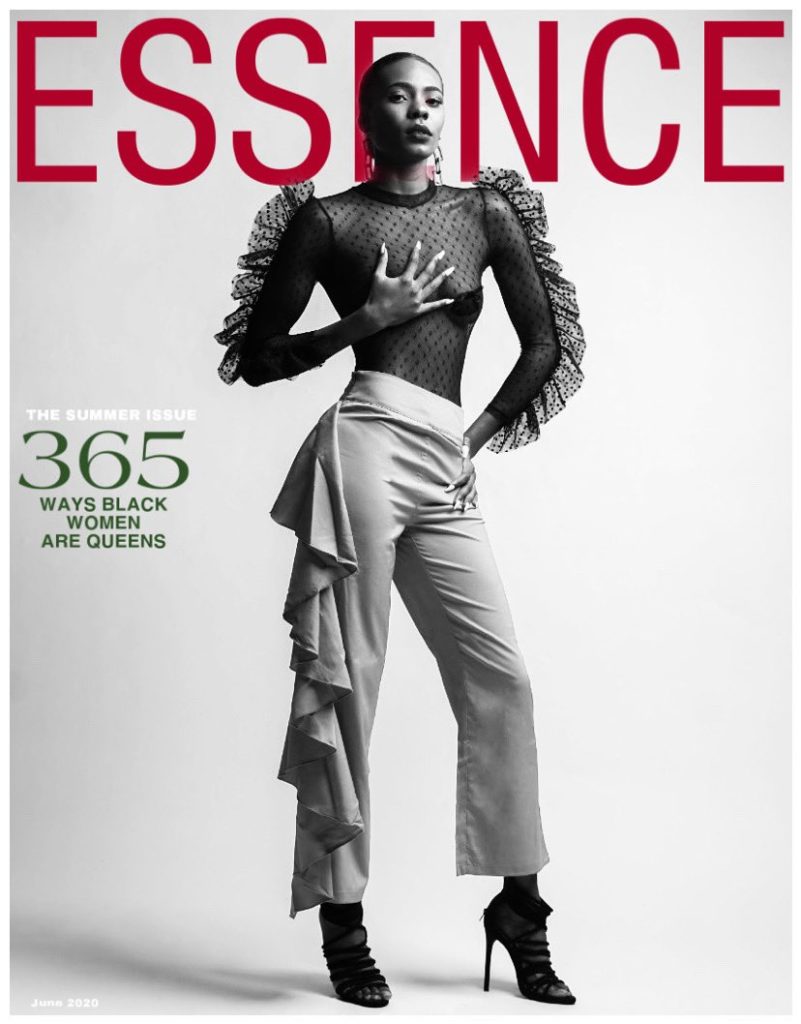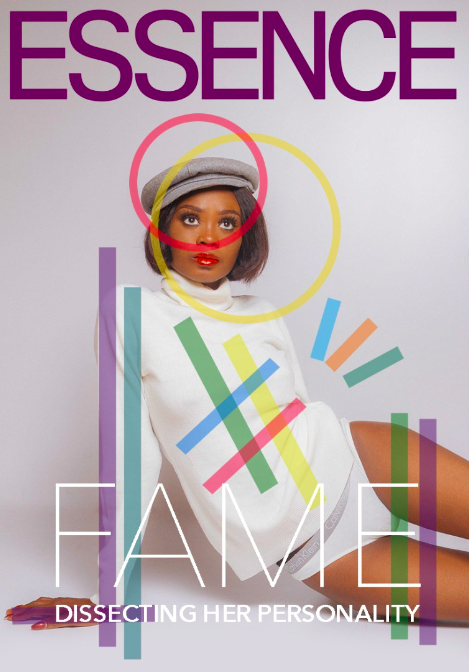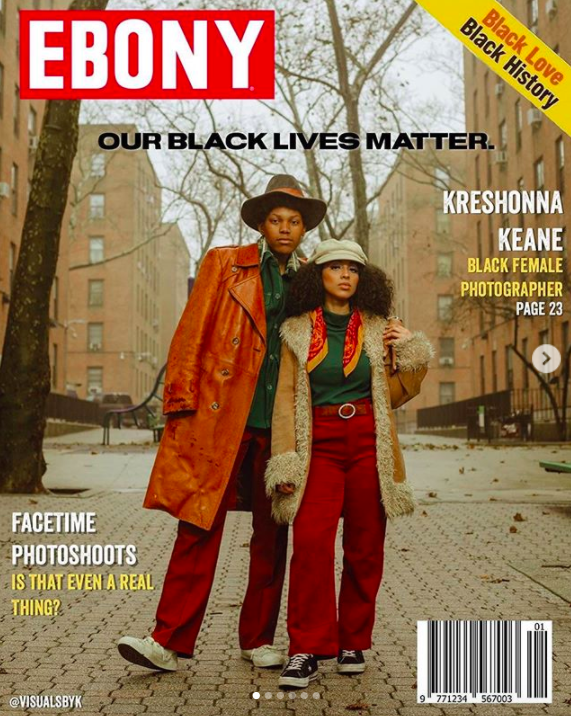 User @Nauticaax3 summarises the backlash at Vogue in a series of three tweets published on 14 June.
"THE #essencechallenge. Doing the vogue challenge didn't sit right with me. I felt like I would be begging Vogue for a seat at the table, knowing damn well it wasn't meant or created for me or girls that look like me anyway. Essence magazine has always been here for us. How come-
they don't receive the same love and recognition as vogue? Vogue featured y'all beautiful photos and creative visions on their platform and didn't give ANY of you a dime. They've been doing that for years. Cultural looks were ghetto until proven fashionable by the industry. We-
are the creators. We've always supplied the visions. Let's show more love to magazines like @Essence. Let's create our own platforms/magazines that give opportunity to all creators, models, designers no matter what they look like. #blacklivesmatter".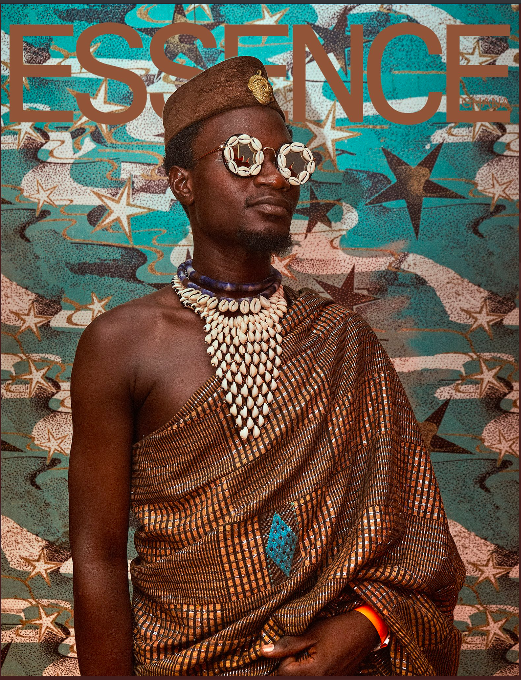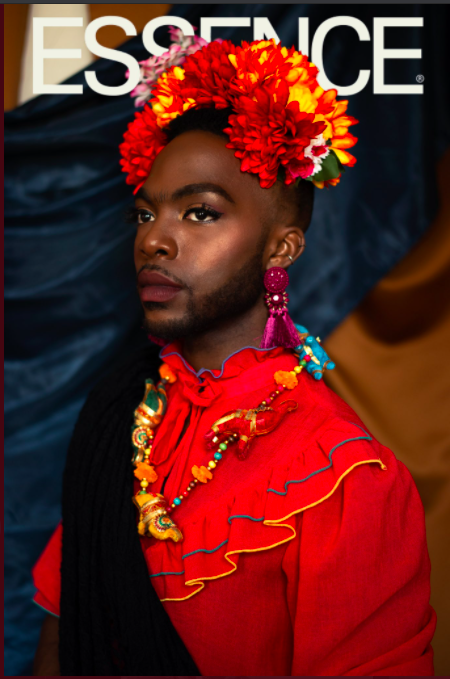 In Africa, the argument for withdrawing support to Vogue and fostering black representational sovereignty, features also some regional versions. On 12 June, Senegalese designer Adama Paris launched the #Africanmagchallenge on Instagram, inviting users to give visibility to African magazines and, in the process, promote African art internationally. Accompanying the text was Adama's own portrait on the cover of the Ivorian luxury publication Milc Magazine.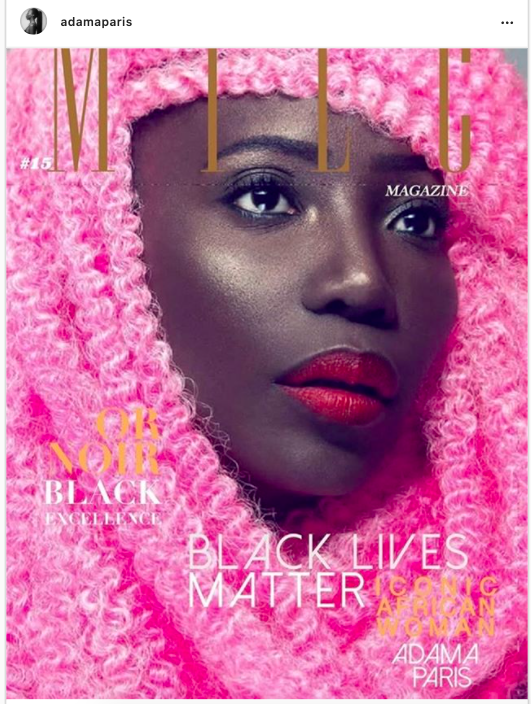 At the designer's invitation, users have begun adding their images to fake covers of African fashion magazines that include the Ghanaian/British Debonair Afrik (the publication of the fashion house by the same name) and the Senegalese Tàccu Magazine. The hashtag has just begun trending and counts less than 100 posts on Instagram as of today.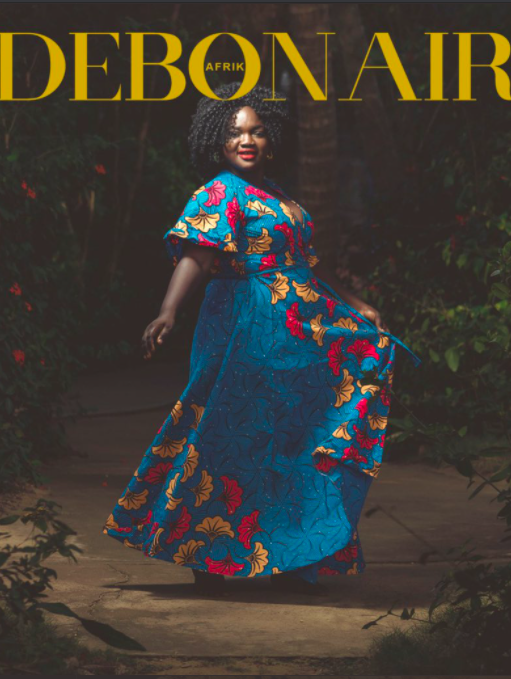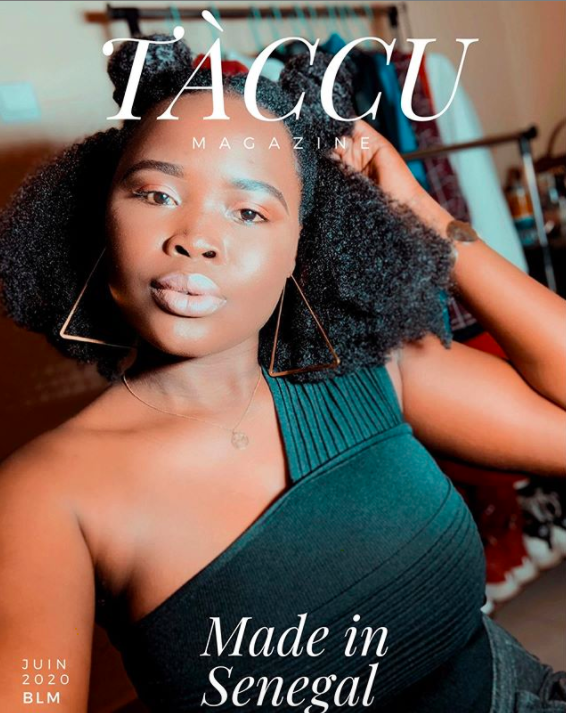 However, these developments suggest that the challenge is being further politicised with the focus shifting towards using personal images to express support for black publishers in particular.
Cover image: #EssenceChallenge posted by @akeemmichaels