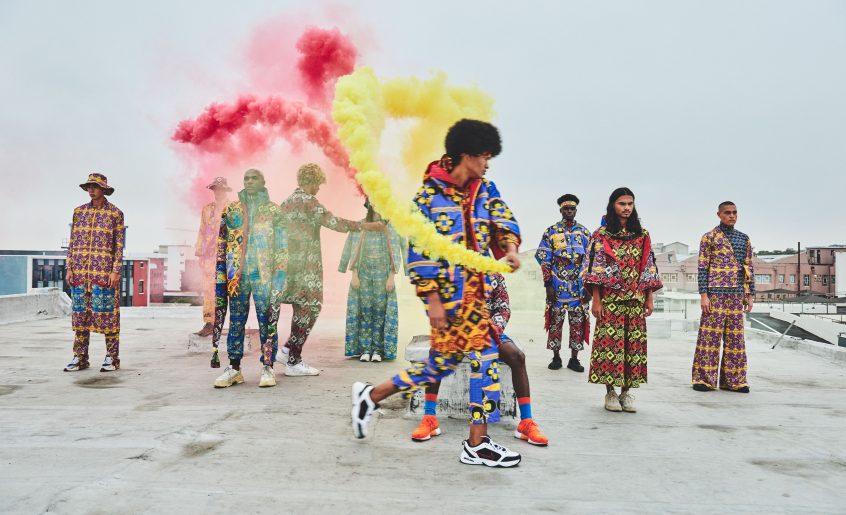 I've been on a long hiatus, developing a parallel project on sustainability, migration, and decolonisation in collaboration with the Black&White: The Migrant Trend platform. The following is based on a remote interview I did on 12 November, 2021 with Nyambo MasaMara, who is one of the case studies of this new project. Please, do not cite without permission.
MasaMara is the athleisure brand founded by 29-year-old Nymabo, a Rwandan artist based in Cape Town, who tells stories of displacement through fashion and visual art.
Nyambo's biography is the inspiration behind his work. After fleeing the genocide in 1994, he spent his formative years journeying across the continent on his own before settling in South Africa, where he left the field of business management to apprentice as a tailor, eventually launching MasaMara in 2016. The brand – the first to make sports garments with African prints – has shown at South African Menswear Week A/W 2018, Design Indaba 2019, the Rubgy Trophy Tour 2019, and was the guest design for Miss South Africa. These shows incorporated elements of performance that called attention to the theme of migration and the plight of refugees, topics that Nyambo addresses in his collections "Third Culture Kid: Son of the Soil" (S/S 2020) and "Migration is Beautiful: Destroy all Borders" (A/W 2020).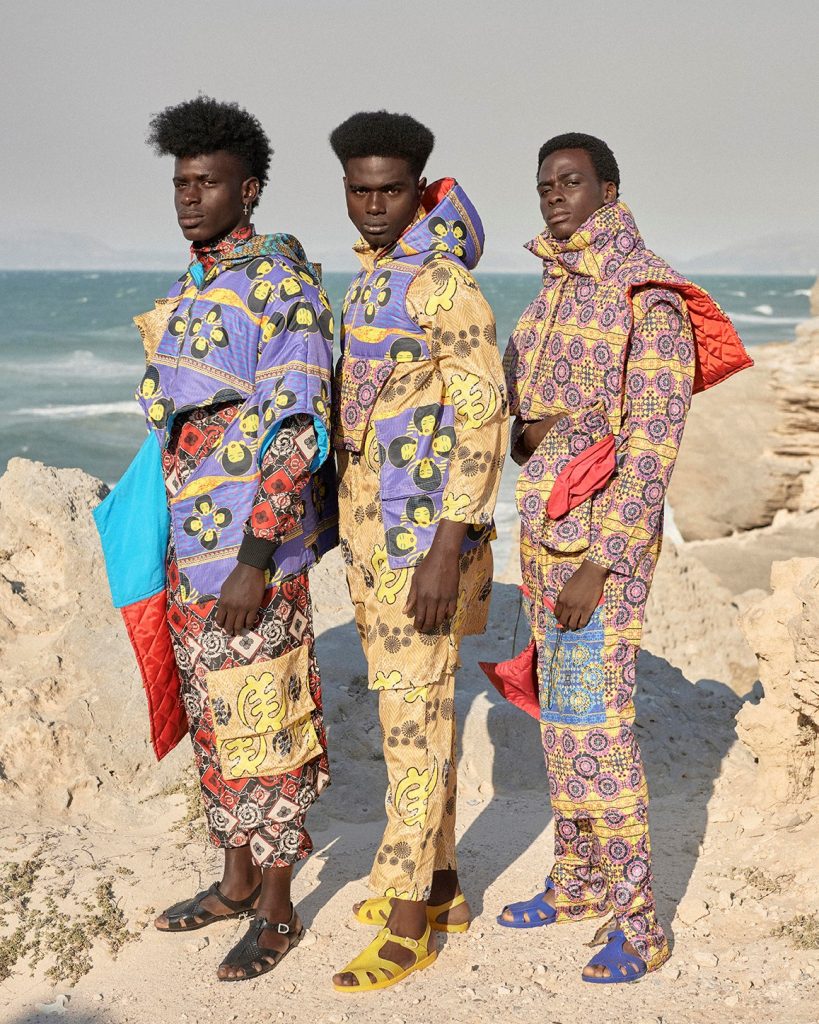 Here, personal experiences of rejection and alienation are reworked into a universal message of reciprocal acceptance of those who are perceived as "others." "Third Culture Kid" is about negotiating identity when one is exposed to multiple cultural influences as a consequence of displacement and "Migration is Beautiful" addresses nativism and exclusion. In the promotional video of the latter, Gold explains: «I wanted to show that migration is not a problem, but a process […] and use the platform I was given to move away from negative narratives that frequently goes [sic] with foreigners and refugees». The film juxtaposes scenes of togetherness to the isolation he felt in South Africa, where in recent years an "us versus them" mentality has taken root, which construes displaced persons as enemies.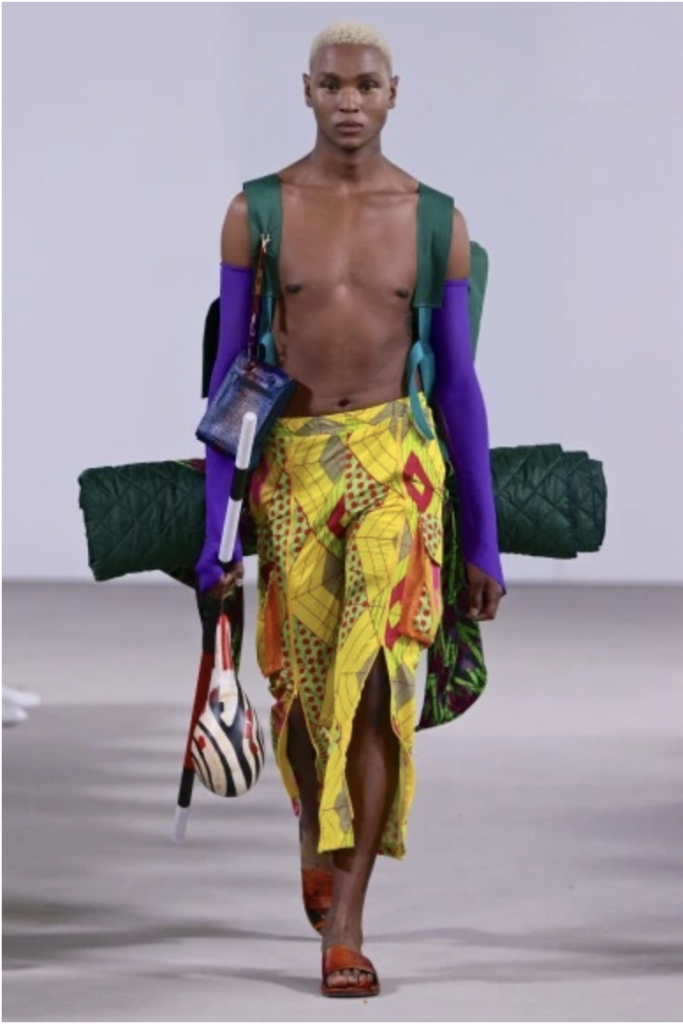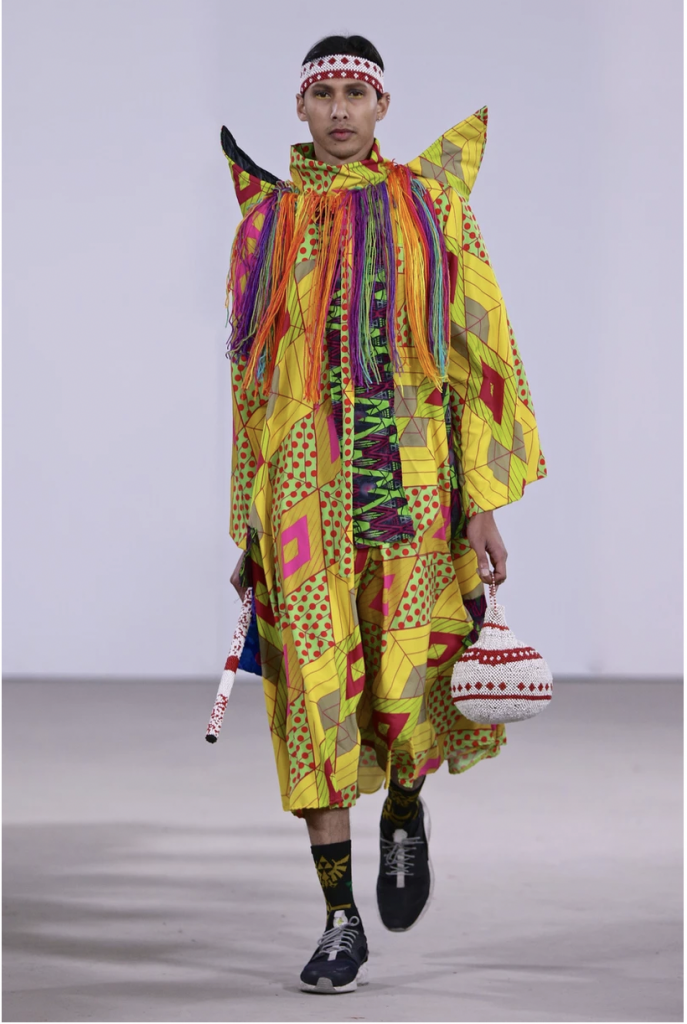 The collections merge ethic and aesthetic. The belief in peaceful coexistence is figuratively rendered in the kind of optical animation for which MasaMara is known. Nyambo's garments and artworks are all made with bright fabric obtained from combinations of different textures and patterns, which he designs himself. The effect is similar to patchwork, where different individual elements blend into a large design that is more than the sum of its parts. The patterns recall the aesthetic of wax cloth and other popular African textiles, displaying series of graphic elements and motifs in vibrant combinations of colour. But whereas those fabrics are mass produced – acquiring social and cultural value as they are worn and displayed – Nyambo's ones are works of art in themselves, a map of the physical and imaginative encounters with multiple African cultures he made as he literally looked for a home away from home.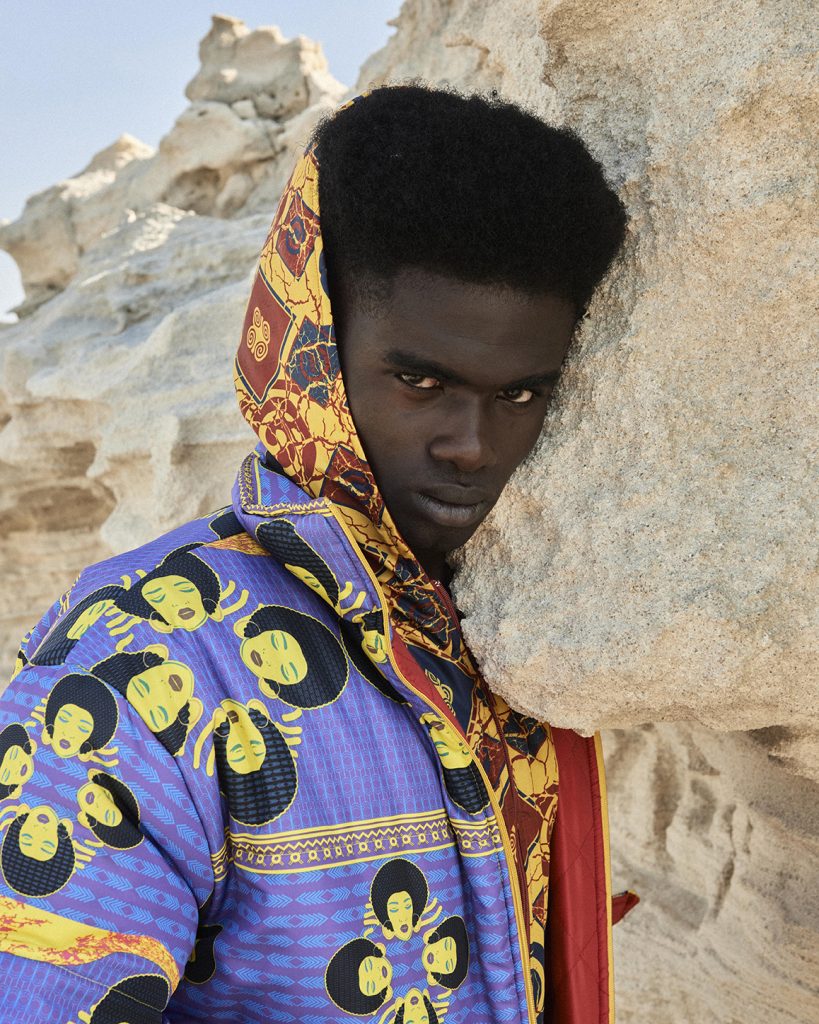 The patchwork is the visualisation of a journey that the artist links to that of his African forefathers, contending that migration is embedded in the African DNA – a notion that leads him to oppose the myth of racial/ethnic purity that feeds so much contemporary nativism in South Africa, as elsewhere around the world. This is also the narrative at the basis of his exhibition "Beyond Borders," included in the exhibition "Art of Everyday Things" at Jaffer Modern (2021).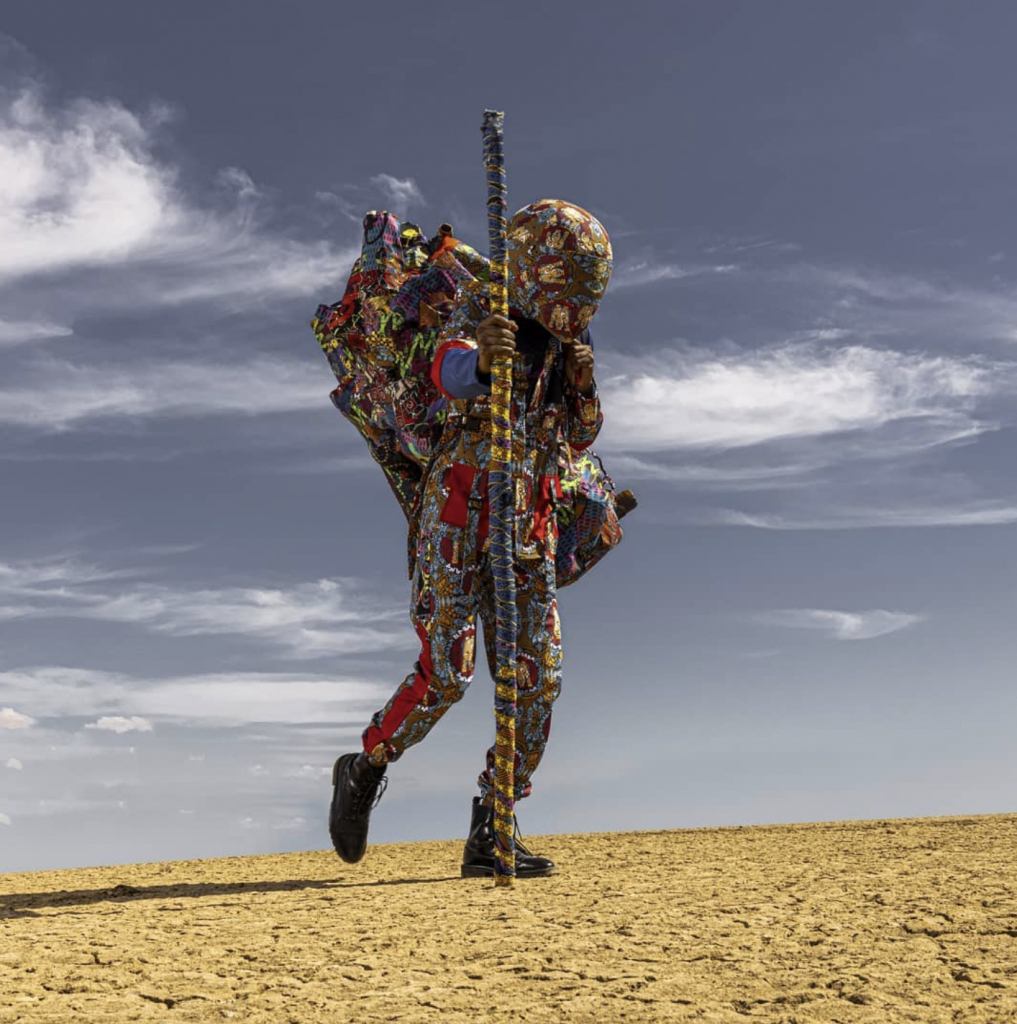 The mix of references, hues, and textures symbolises multiculturalism: a beautiful cacophony that comes alive in unexpected combinations because, as he claims, each element that goes into the mix has the potential to enrich it, as long as it has space to thrive. Talking about the anti-immigrant feelings he has experienced and that are addressed in "Migration is Beautiful," he says:
When I look from where I'm standing from, I don't think that I'm a problem, where I am. I'm employing people, I'm giving them skills, I'm contributing to the country's economy. There's so many things that one brings, knowledge and skills. I have things that I'm offering. I didn't just come with nothing. I came with so many things to offer.
MasaMara is a modified version of the Rwandan proverb amara masa, meaning "with nothing," which describes the show of gratitude subjects made to their king at the end of harvest season. Many came with gifts, but some were empty-handed. The humbling experience of offering nothing but oneself to those who looked after you in a time of need is the story Nyambo tells in his works, which channel stories of migration with dignity, grace and respect. These stories are the gift of the once empty-handed, who has created a platform to give voice to the voiceless. Having a voice is power and, in the age of trendsetters and culture gurus, a form of 'influencing' that can show a path – a "light", in his words – to those who are on a journey without a destination. He calls his work "a beautiful burden", an appropriate image for an artist who believes that he is standing on the shoulders of those who came before him, from every corner of Africa.
Cover image: "Migration is Beautiful: Destroy all Borders", MasaMara AW 2020. Ph: @wearecreative