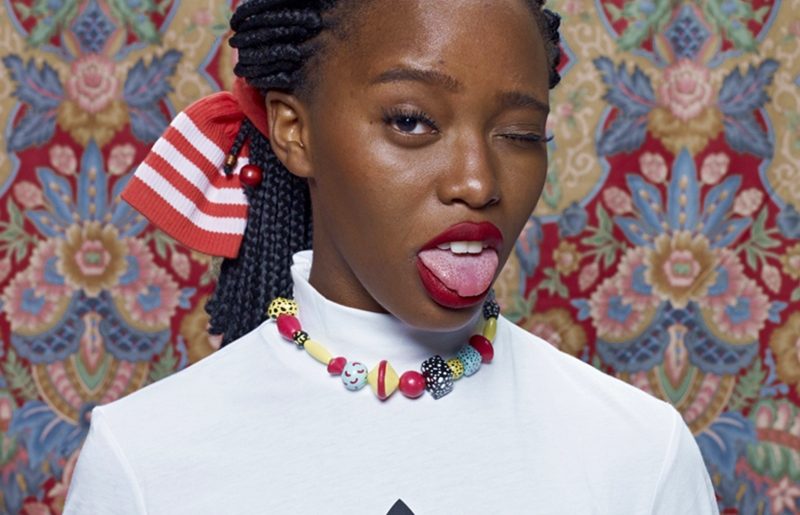 This week the artistic platform Design Indaba has held its Annual Festival and handed the stage to South Africa's top creative minds.
These include Zipho Gum, aka Tony Gum, a 20-year-old film student at the the Cape Peninsula University of Technology and a social media sensation. Gum caught the collective attention with her "Coca-Cola" series showcased at Johannesburg Art Fair 2015, quickly becoming one of the foremost representatives of the South African creative scene.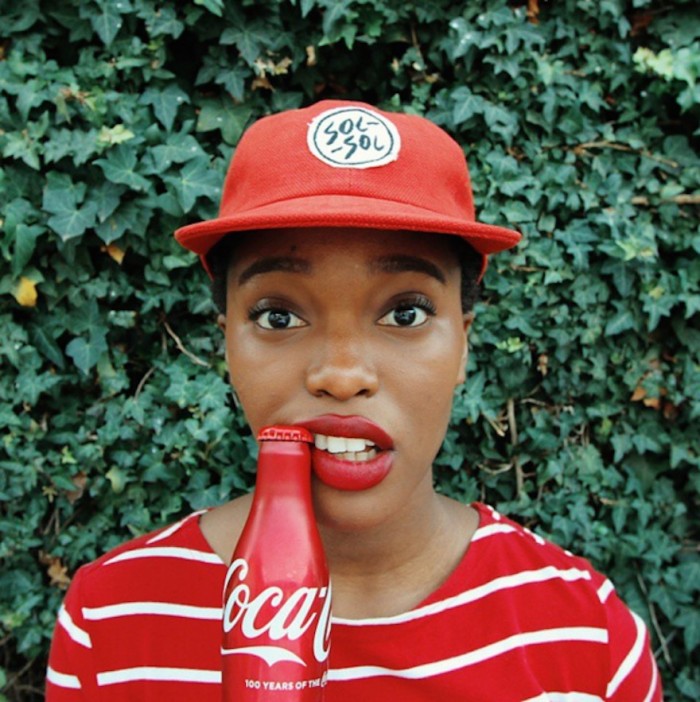 The series features the artist's playful impersonations of different characters (what she calls her "Tony" side), creating "an image of Black Coca-Cola lady". Gum Africanises the symbol par excellence of Westernisation and globalisation by means of accessories – the headwrap and beaded necklace – and her body language – as in the picture with the crate, which recalls familiar images of African women carrying goods on their heads. Cultural relevance is indeed Gum's goal. She writes that she wanted the image to be "relatable to every Mom, Pink and Larry" in the continent.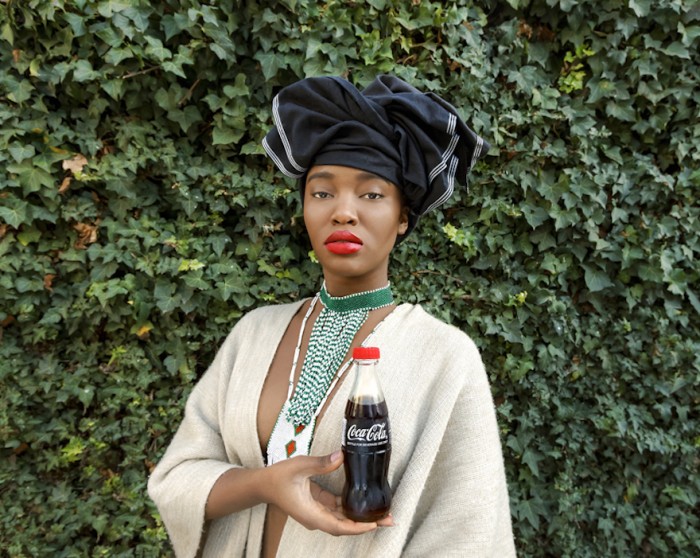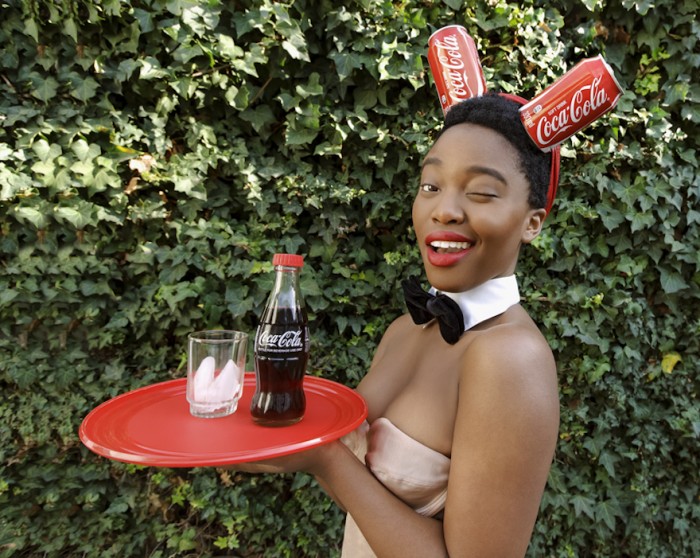 The work reflects on commercialism and glocalisation,  what we could call "Afrocommercialism", foregrounding the affective elements of branding in the geographical and cultural context of Africa. She declares:
As simple as the beverage may be in comparison to the Xhosa culture and its traditions, together they compliment and elevate each other. In other words, I want the relationship between the product and the consumer to be more than just 'a purchase;' I want it to be a proud and sentimental experience.

The moment the consumer realizes that Coke is now touching on relatable terms, that's when a connection is made. That's when Coke is no longer "just a Coke."

Tony Gum – "Black Coca Cola: Crates"

Tony Gum – "Black Coca Cola: Mother"
Gum is a master marketing mind who reproduces familiar scenes to unexpected and eye-catching effects and it is no surprise that her resumé boasts several commercial collaborations. Pastel colours  are her signature aesthetic mark, which she uses to bring a focus on race through visual compositions that reference the style of African studio portraiture.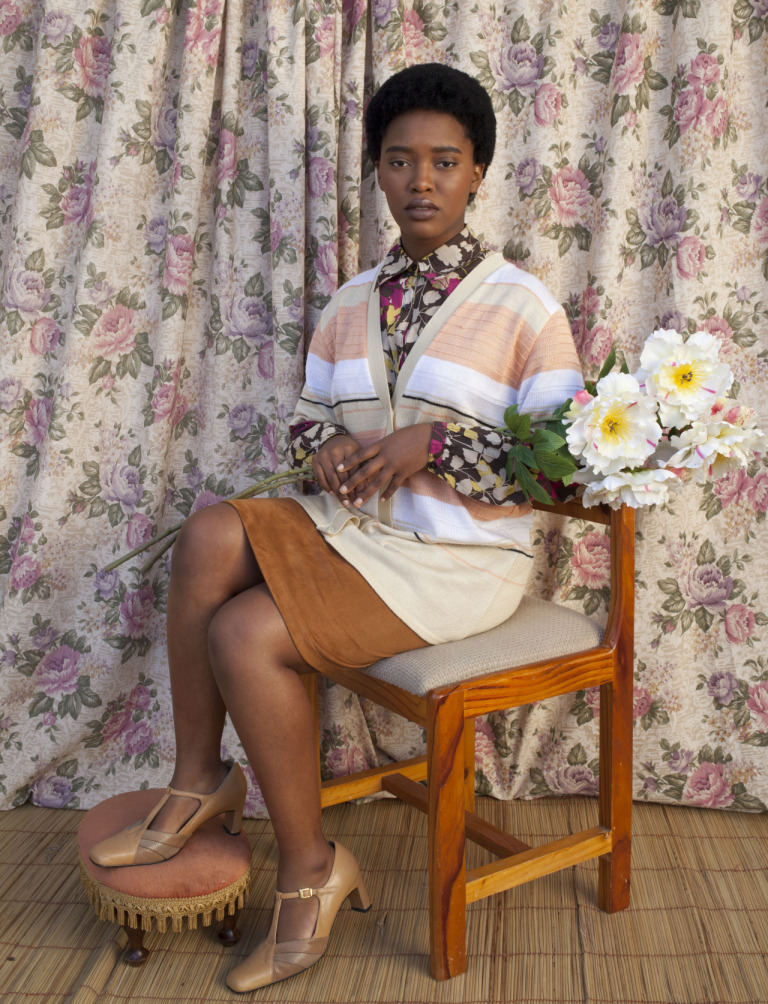 This she does by reinventing famous advertisements with a local inspiration and African protagonists.
Fashion and style are pivotal to this valorisation of cultural difference. Clothes, textiles, and accessories make her work unequivocally African, effectively mobilising self-adornment to apply an African lens to globalisation. For example, in some of the shots of the "uTwiggy" series, Gum wears a Xhosa beaded choker to impersonate the British model, portrayed in her iconic wide-eyed make-up style. In another, a red handkerchief is wrapped around her forehead, focusing the attention to her cropped afro – a contentious visual signifier of black empowerment (see Tulloch 2008). This choice turns Twiggy into a template, a reproducible aesthetic format where Gum's preoccupation about identity politics turns a familiar and digestible image on its head.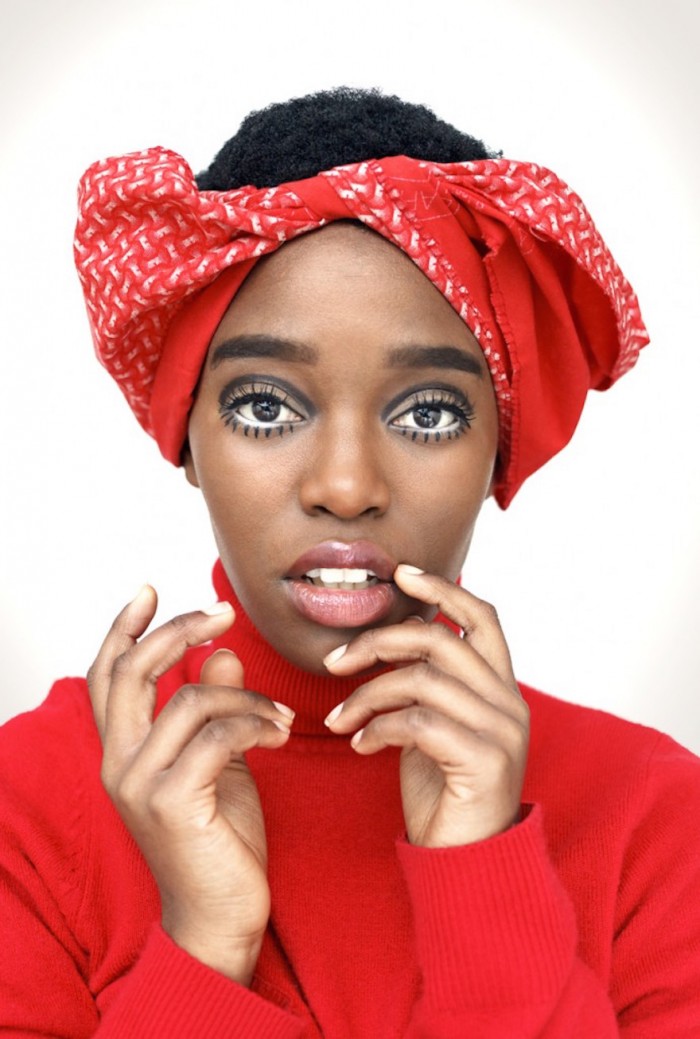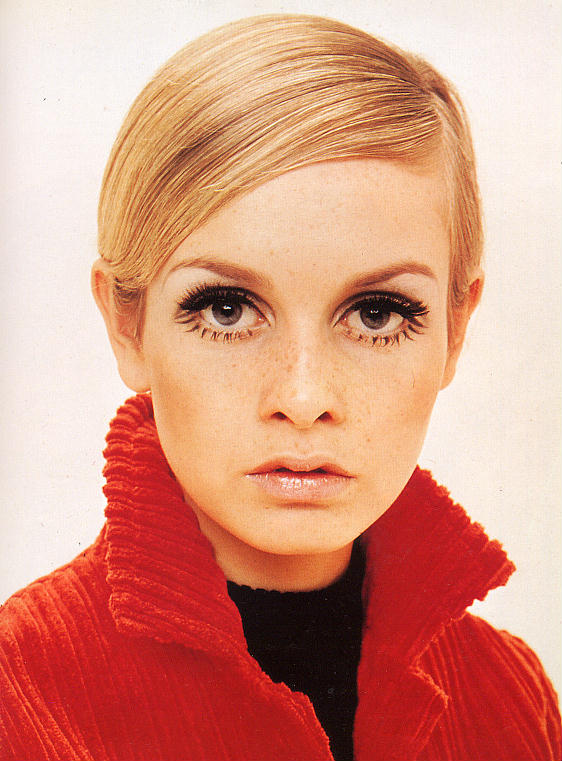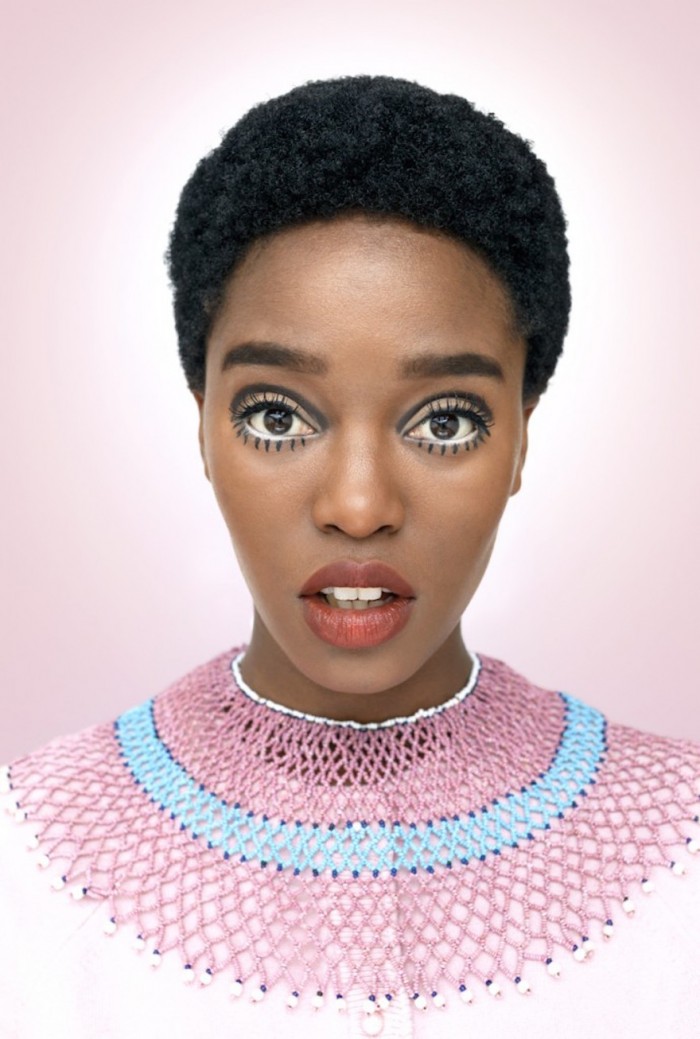 In a video interview with Josh Hayman the artist insists that everyday objects, images, and situations are her only inspiration. The exceptional and the quirky are there, in "what [she] has", especially her surroundings and clothes. Her home is her studio and her cell phone is her camera obscura – she claims to use Vsco photo app to process the pictures she sometimes takes with a Canon point-and-shoot.
In these portraits, heritage is self-branding, but also a powerful means of integrating other voices from the margins of the white, heteronormative West in her sentimental relationship with consumer goods. In the collaboration with Superbalist (2015), where she shares the stage with Diana Musoni, Gum draws on M.I.A.'s Bad Girls video and Middle Eastern aesthetics to reenvision the Adidas brand.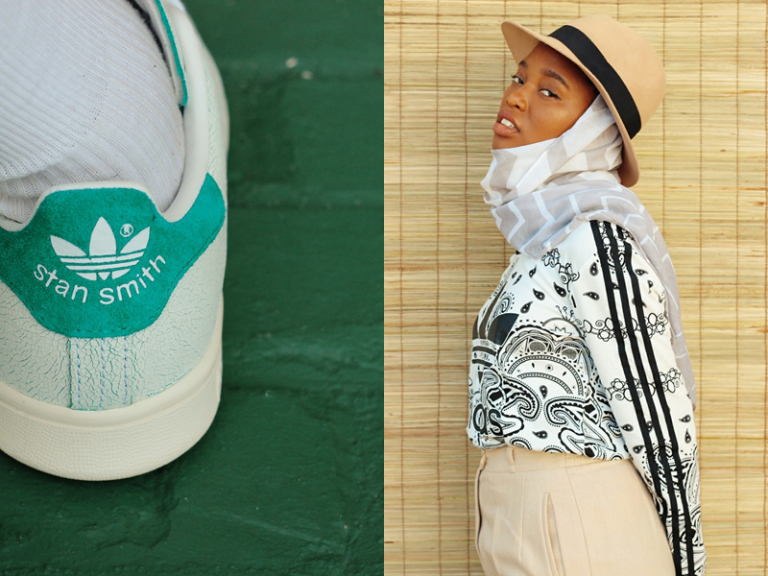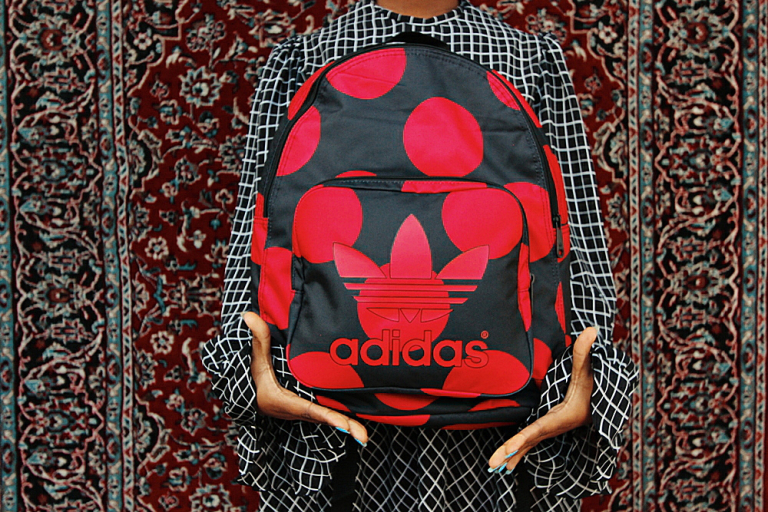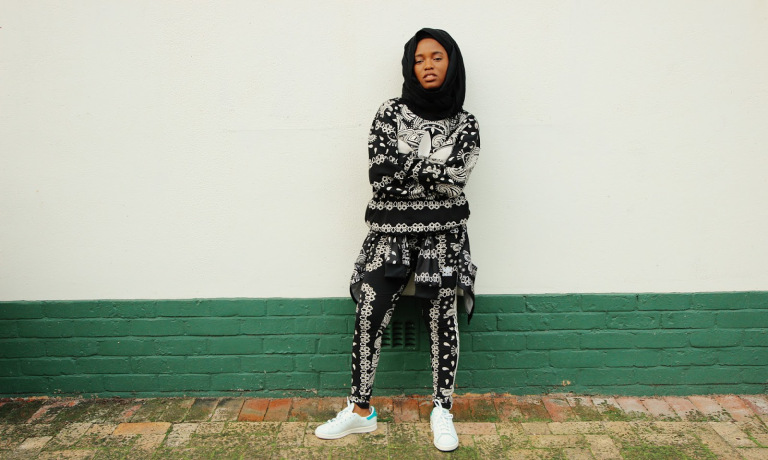 The series is another take on Afrocommercialism, exploring the added value of cultural appropriation through highly stylised means. Indeed, in her bio blurb on Design Indaba Gum claims to be "proud of her African heritage but […] equally happy to fuse with Western brands [Her goal is] creating an intimate link between the brand and the 'people'".
The Adidas Originals collaboration is a layered citational work filled with a plethora of cultural references, that recalls multiple aesthetic languages, including the work of other African artists, most notably Hassan Hajjaj.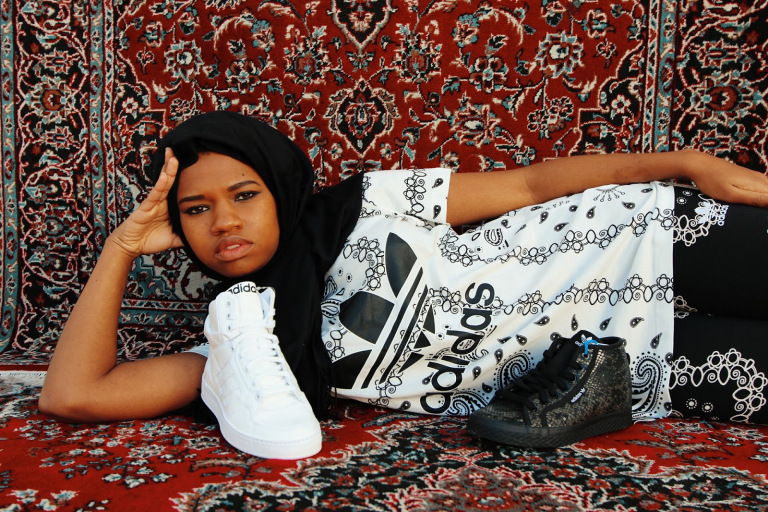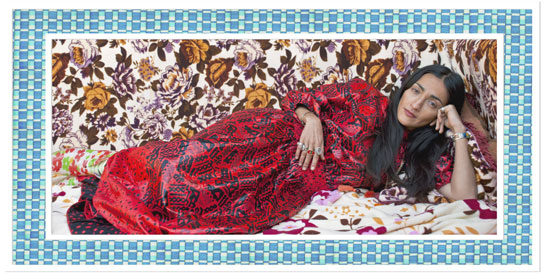 Hajjaj is known for taking inspiration from the streets of his native Morocco to create Arabic works of art for an international audience. Branded items are a staple of his work, perhaps the essential element of its aesthetic vision. He comments that they often draw the audience's attention away from the photographed subjects. In the "Kesh Angels" series, he frames the portraits of Moroccan bikers in djeballah and veils with everyday objects like LEGO, cans of Fanta and Pepsi. These pop-art, hand-made frames are a comment on Western misconceptions of the North African Arab world and a homage to African studio portraiture, showing that the relationship between tradition and modernity is not fixed, but ongoing and symbiotic and that, indeed, globalisation itself cannot be pinned down to "things", or "commodities", but should be regarded as well a source of creativity and appropriation from the margins.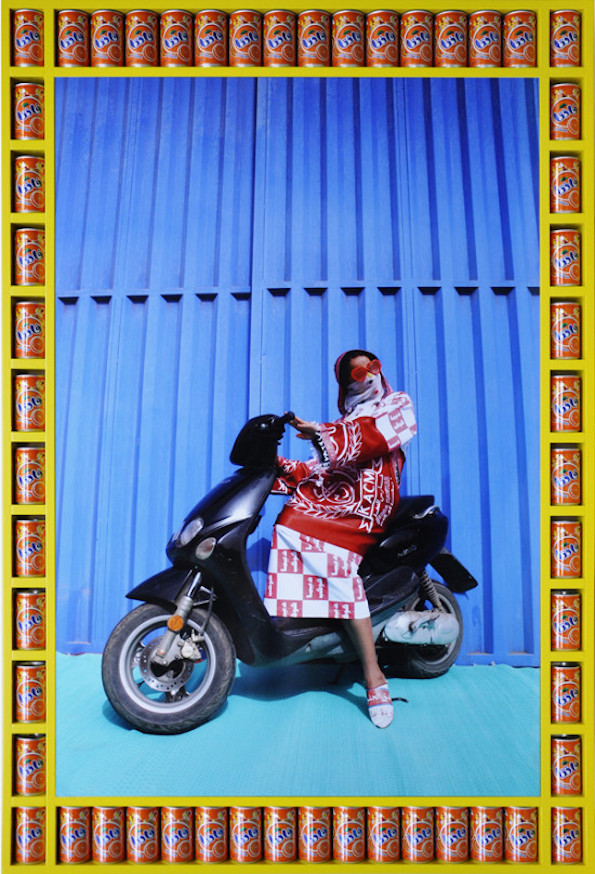 This too, is a contribution to Afrocommercialism that creates an intimate relationship between the brand and the people.
The analysis of Hajjaj's work by Huda Smitshuijzen AbiFarès brings us back to Tony Gum's project of an Africanised global visual culture."[T]he multi-cultural and hybrid visual language of contemporary design in the [North African] Arab world can be seen as a 'natural' recent development that resonates in a long forgotten cultural heritage […] This crossing of boundaries is not limited to the visual aspects of each artefact but also extends to the process of creating, producing and disseminating design products" (2010: 141).
AbiFarès's comment stresses the necessity to approach stylisation and sartorialism in Africa as complex phenomena that involve multiple artistic languages and registers, as well as a network of dissemination and transversal appropriation that exceeds not only the temporal boundaries of the present, but also traditional methodologies of analysis and disciplinary hierarchies.
Bibliography:
Smitshuijzen AbiFarès, H. (2010) "Creative contemporary design in the Arab world" in H.K. Anheier and Y.R Isar (eds.), Cultures and Globalization: Cultural Expression, Creativity and Innovation (London: SAGE), pp.132-147
Tulloch, C. (2008) "Resounding Power of the Afro Comb", in G. Biddle-Perry and S. Cheang (eds.), Hair: Styling, Culture and Fashion (Oxford and New York: Berg), pp. 123-139.